Publications

The following is an overview of recent publications, including the full text in PDF format where possible. Please note: These articles may be downloaded for personal use only. Any other use requires prior permission of the author and the publisher.



NEW Post-Fabrication Voltage Controlled Resonance Tuning of Nanoscale Plasmonic Antennas, Chatdanai Lumdee, Seyfollah Toroghi, and Pieter G. Kik, ACS Nano 6, 6301 (2012) [pdf] [link]

Voltage controlled wavelength tuning of the localized surface plasmon resonance of gold nanoparticles on an aluminum film is demonstrated in single particle microscopy and spectroscopy measurements. Anodization of the Al film after nanoparticle deposition forms an aluminum oxide spacer layer between the gold particles and the Al film, modifying the particle-substrate interaction. Darkfield microscopy reveals ring-shaped scattering images from individual Au nanoparticles, indicative of plasmon resonances with a dipole moment normal to the substrate. Single particle scattering spectra show narrow plasmon resonances that can be tuned from ~580 nm to ~550 nm as the anodization voltage increases to 12 V. All observed experimental trends could be reproduced in numerical simulations. The presented approach could be used as a general post-fabrication resonance optimization step of plasmonic nanoantennas and devices.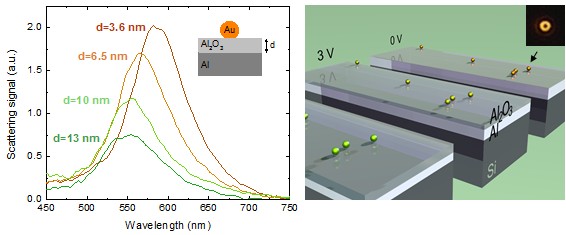 NEW Cascaded field enhancement in plasmon resonant dimer nanoantennas compatible with two-dimensional nanofabrication methods, Seyfollah Toroghi and Pieter G. Kik, Appl. Phys. Lett. 101, 13116 (2012) [pdf] [link]

Cascaded field enhancement is demonstrated in asymmetric plasmon resonant dimer nanoantennas consisting of shape-tuned ellipsoidal nanoparticles. The nanoparticles that make up the dimer have identical thickness, suggesting that the presented approach can be used to design cascaded dimer antennas compatible with standard two-dimensional top-down nanofabrication tools such as electron beam lithography and nano-imprint lithography. Cascaded excitation is achieved by modification of the in-plane particle aspect ratios in a way that keeps the resonance frequency of the individual particles fixed, while significantly changing their polarizability. The achievable field enhancement is evaluated as a function of the particle volume ratio and spacing.






NEW Cascaded plasmon resonant field enhancement in nanoparticle dimers in the point dipole limit, Seyfollah Toroghi and Pieter G. Kik, Appl. Phys. Lett. 100, 183105 (2012) [pdf] [link] Featured in VJNano

Cascaded field enhancement in silver dimer nanostructures is investigated using a dipole-dipole interaction model. Field enhancement spectra are evaluated as a function of the particle size difference and inter-particle spacing. We observe three distinct regimes of cascaded field enhancement: hindered cascading, multiplicative cascading, and the ultimate cascading limit, depending on the dimer interaction strength. Multiplicative cascading at small inter-particle spacing leads to analytic expressions for the ultimate internal and external field enhancement factors. For silver dimers in a host with index 1.5 we obtain a maximum internal field enhancement of 2.9E3, a factor of 75 larger than that of an isolated silver nanoparticle.






NEW Cascaded plasmonic metamaterials for phase-controlled enhancement of nonlinear absorption and refraction, Seyfollah Toroghi and Pieter G. Kik, Phys. Rev. B 85, 045432 (2012) [pdf] [link]

The nonlinear optical properties of plasmon resonant metamaterials consisting of chains of metal nanoparticles are evaluated. Introducing particle size differences along the chains leads to the development of cascaded plasmon resonances exhibiting increased field enhancement and field confinement. The interplay between the different resonances on the structures induces a frequency dependent enhancement of the nonlinear refractive and absorptive response of the metamaterial, ultimately providing larger nonlinear susceptibility enhancement factors with engineered complex phase. It is shown that cascaded structures can provide a figure of merit for nonlinear absorption that is more than an order of magnitude larger than that obtained in non-cascaded structures. The presented approach could lead to new planar and integrated nonlinear optical modulation and switching media with improved performance compared to their non-cascaded counterparts.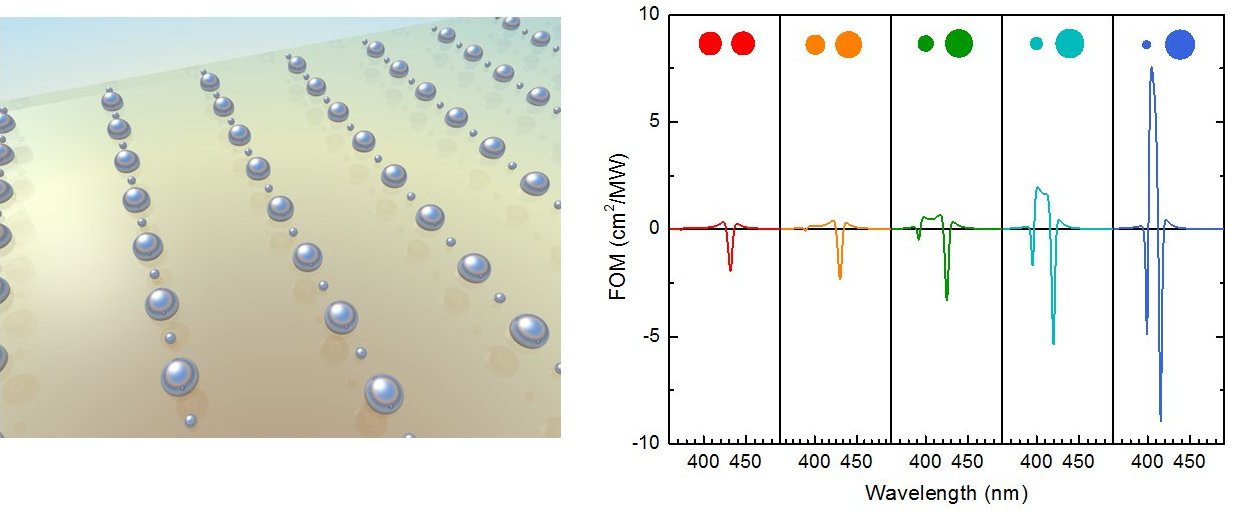 Taking cascaded plasmonic field enhancement to the ultimate limit in silver nanoparticle dimers, Seyfollah Toroghi and Pieter G. Kik, , Proc. SPIE 8457, 84570D (2012) [pdf] [link]

Cascaded optical field enhancement in coupled plasmonic nanostructures has attracted significant attention because of field enhancement factors that dramatically exceed those observed in isolated nanostructures. While previous studies demonstrated the existence of cascaded enhancement, little work has been done to identify the requirements for achieving maximum field enhancement. Here, we investigate cascaded field enhancement in silver nanosphere dimers as a function of volume ratio and center-to-center separation, and show the requirements for achieving the ultimate cascading limit in nanoparticle dimers. We observe field enhancements that are a factor 75 larger than observed in isolated silver nanoparticles.


Voltage controlled nanoparticle plasmon resonance tuning through anodization, Chatdanai Lumdee and Pieter G. Kik, Proc. SPIE 8457, 84570T (2012) [pdf] [link]

Frequency control of plasmon resonances is important for optical sensing applications such as Surface Enhanced Raman Spectroscopy. Prior studies that investigated substrate-based control of noble metal nanoparticle plasmon resonances mostly relied on metal substrates with organic or oxide spacer layers that provided a fixed resonance frequency after particle deposition. Here we present a new approach enabling continuous resonance tuning through controlled substrate anodization. Localized Surface Plasmon tuning of single gold nanoparticles on an Al film is observed in single-particle microscopy and spectroscopy experiments. Au nanoparticles (diameter 60 nm) are deposited on 100 nm thick Al films on silicon. Dark field microscopy reveals Au nanoparticles with a dipole moment perpendicular to the aluminum surface. Subsequently an Al2O3 film is formed with voltage controlled thickness through anodization of the particle coated sample. Spectroscopy on the same particles before and after various anodization steps reveal a consistent blue shift as the oxide thickness is increased. The observed trends in the scattering peak position are explained as a voltage controlled interaction between the nanoparticles and the substrate. The experimental findings are found to closely match numerical simulations. The effects of particle size variation and spacer layer dielectric functions are investigated numerically. The presented approach could provide a post-fabrication frequency tuning step in a wide range of plasmonic devices, could enable the investigation of the optical response of metal nanostructures in a precisely controlled local environment, and could form the basis of chemically stable frequency optimized sensors.


Design of cascaded plasmon resonances for ultrafast nonlinear optical switching, Seyfollah Toroghi and Pieter G. Kik, SPIE 8054, 80540E-1 (2011) [pdf] [link]

The optical properties of cascaded plasmon resonant metallic nanocomposites are investigated. Plasmon resonances and their related field distributions are numerically evaluated in two-dimensional arrays of spherical silver nanoparticles embedded in a dielectric host. The field distributions in structures with identical particle sizes indicate the presence of a largely dipolar particle response, with a small multipole resonance contribution at high frequency. However, in arrays consisting of particles with dissimilar sizes, an additional coupled mode appears in which the dipole moment in adjacent particles is found to be anti-parallel. For increasing size-dissimilarity a higher electric field enhancement is observed inside the small metal nanospheres, indicative of a cascaded field enhancement effect. This effect may be used to enhance the nonlinear optical response of an effective medium composed of particles with engineered size dispersion and particle placement.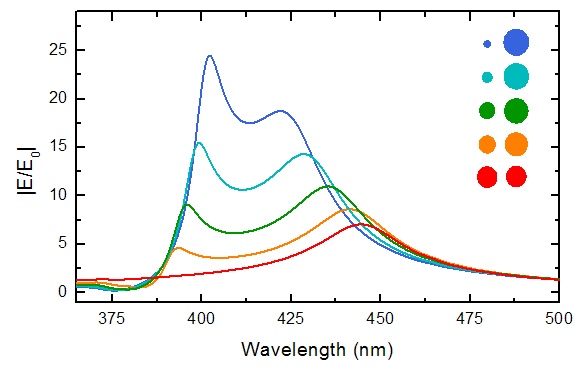 Determination of optimum Si excess concentration in Er-doped Si-rich SiO2 for optical amplification at 1.54 um , Oleksandr Savchyn, Kevin R. Coffey, and Pieter G. Kik, Appl. Phys. Lett. 97, 201107 (2010) [pdf] [link]

The presence of indirect Er3+ excitation in Si-rich SiO2 is demonstrated for Si excess concentrations in the range 2.5 – 37 at.%. The Si excess concentration providing the highest density of sensitized Er3+ ions is demonstrated to be relatively insensitive to the presence of Si nanocrystals and is found to be ~ 14.5 at.% for samples without Si nanocrystals (annealed at 600°C) and ~ 11.5 at.% for samples with Si nanocrystals (annealed at 1100°C). The observed optimum is attributed to an increase in the density of Si-related sensitizers as the Si concentration is increased, with subsequent deactivation and removal of these sensitizers at high Si concentrations. The optimized Si excess concentration is predicted to generate maximum Er-related gain at 1.54 μm in devices based on Er-doped Si-rich SiO2.


Frequency dependent power efficiency of a nanostructured surface plasmon coupler, Amitabh Ghoshal and Pieter G. Kik, Phys. Stat. Sol. Rapid Research Letters 4, 280 (2010) [pdf] [link] [cover] [cover info]

Surface plasmon (SP) excitation on an extended thin metal film via a miniature nanoparticle-enhanced grating coupler is studied experimentally using leakage radiation spectroscopy. A universally applicable method for determining the efficiency of free-space SP excitation is developed, and the efficiency of the coupler is determined. Two distinct grating excitation modes are observed, as well as a particle-mediated excitation mode. The maximum observed coupling efficiency of the structure was approximately 3.5% at 615 nm and 670 nm, corresponding to the two grating modes of the structure.






Single particle spectroscopy study of metal-film-induced tuning of silver nanoparticle plasmon resonances, Min Hu, Amitabh Ghoshal, Manuel Marquez, and Pieter G. Kik, J. Phys. Chem. C 114, 7509 (2010) [pdf] [link]

We present an experimental study of the tunability of the silver nanoparticle localized plasmon resonance in close proximity to a gold film. Broadband tuning of the silver particle plasmon resonance from blue wavelengths into the near-IR region can be achieved due to strong electromagnetic coupling between the nanoparticle and the metal film. By altering the thickness of a thin silica spacer layer between the metal nanoparticle and the metal film the resonance frequency can be selected. Single particle spectroscopy of over 250 isolated silver nanoparticles revealed evidence for the excitation of both horizontal and vertical plasmon modes. Distinct resonance features observed in the scattering spectra were assigned to specific modes based on a dipole-dipole interaction model. The experimental results suggest that low-loss silver nanoparticles can be used in surface enhanced spectroscopy studies throughout the entire visible spectrum. The use of frequency tuned spherical metal nanoparticles on solid substrates could lead to thermally stable substrates for plasmon enhanced sensing applications, including surface enhanced Raman scattering and refractive index based biodetection methods.






High temperature optical properties of sensitized Er3+ in Si-rich SiO2 - implications for gain performance , Oleksandr Savchyn, Ravi M. Todi, Kevin R. Coffey, and Pieter G. Kik, Opt. Mat. 32, 1274 (2010) [pdf] [link]

The high-temperature photoluminescence of Er-doped Si-rich SiO2 with and without silicon nanocrystals is studied at sample temperatures in the range 20 – 200oC. The optical properties of Er-doped Si-rich SiO2 with and without silicon nanocrystals are shown to exhibit a similar temperature dependence. Based on the measured photoluminescence intensities and lifetimes it is predicted that an increase of the sample temperature from 20°C to 200oC results in a decrease of the maximum optical gain at 1535 nm by a factor of ~ 1.8 and ~ 1.6 for samples with and without nanocrystals respectively. Implementation of this material in silicon photonics requires stable operation at typical processor case temperatures up to 80 – 90oC. It is demonstrated that increasing the temperature from room temperature to 90°C leads to a predicted maximum optical gain reduction of ~ 1.26 for both materials. In addition, the predicted erbium related optical gain at significant inversion levels in samples processed at low temperature (600°C) is a factor ~ 9 higher than for samples processed at high temperature (1060°C). These findings demonstrate that relatively thermally stable gain performance of the Er-doped Si-rich SiO2 up to typical processor operating temperatures is possible and indicate that low-temperature-processed erbium-doped silicon-rich SiO2 is a technologically viable gain medium for use in silicon photonics.


Near-field enhancement of infrared intensities for f-f transitions in Er3+ ions close to the surface of silicon nanoparticles, Lesya Borowska, Stephan Fritzsche, Pieter G. Kik, and Artem E. Masunov, J. Mol. Model. 17, 423 (2010) [pdf] [link]

Erbium doped waveguide amplifiers can be used in optical integrated circuits to compensate for signal losses. Such amplifiers use stimulated emission from the first excited state (4I13/2) to the ground state (4I15/2) of Er3+ at 1.53 μm, the standard wavelength for optical communication. Since the intra-f transitions are parity forbidden for free Er3+ ions, the absorption and the emission cross sections are quite small for such doped amplifiers. To enhance the absorption, Si nanoclusters can be embedded in silica matrix. Here we investigate the effect of the Si nanocluster on the Er emission using ab initio theory for the first time. We combine multi-reference configuration interaction with one-electron spin-orbit Hamiltonian and relativistic effective core potentials. Our calculations show that the presence of a polarizable Be atom at 5A from the Er3+ ion in a crystalline environment can lead to an enhancement in the emission by a factor of three. The implications of this effect in designing more efficient optical gain materials are discussed.


Excitation wavelength-independent sensitized Er3+ concentration in as-deposited and low temperature annealed Si-rich SiO2 films, Oleksandr Savchyn, Ravi M. Todi, Kevin R. Coffey, Luis K. Ono, Beatriz Roldan Cuenya, and Pieter G. Kik, Appl. Phys. Lett. 95, 231109 (2009) [pdf] [link]

Erbium sensitization is observed in as-deposited Er3+ doped Si-rich SiO2, ruling out the involvement of Si nanocrystals in the Er3+ excitation in these samples. The Er3+ absorption cross section in this material is similar within a factor 3 to that of samples annealed at 600oC under 355nm and 532nm excitation. The density of excitable Er3+ ions is shown to be excitation wavelength independent, while the shape of the Er3+ excitation spectra is governed by a wavelength-dependent Er3+ absorption cross section. These findings enable the use of a broad range of wavelengths for the efficient excitation of this gain medium.


Structural control of nonlinear optical absorption and refraction in dense metal nanoparticle arrays, Dana C. Kohlgraf-Owens and Pieter G. Kik, Opt. Express 17, 15032 (2009) [pdf] [link]

The linear and nonlinear optical properties of a composite containing interacting spherical silver nanoparticles embedded in a dielectric host are studied as a function of interparticle separation using three dimensional frequency domain simulations. It is shown that for a fixed amount of metal, the effective third-order nonlinear susceptibility of the composite X(3) can be significantly enhanced with respect to the linear optical properties, due to a combination of resonant surface plasmon excitation and local field redistribution. It is shown that this geometry-dependent susceptibility enhancement can lead to an improved figure of merit for nonlinear absorption. Enhancement factors for the nonlinear susceptibility of the composite are calculated, and the complex nature of the enhancement factors is discussed.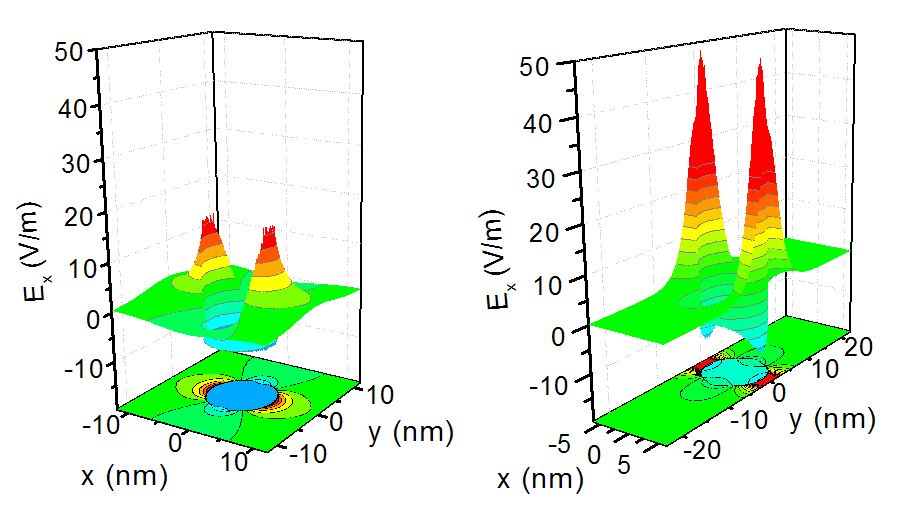 Observation of temperature-independent internal Er3+ relaxation efficiency in Si-rich SiO2 films, Oleksandr Savchyn, Ravi M. Todi, Kevin R. Coffey, and Pieter G. Kik, Appl. Phys. Lett. 94, 241115 (2009) [pdf] [link]

Time-dependent photoluminescence measurements of low-temperature-annealed Er-doped Si-rich SiO2 were conducted at sample temperatures 15-300K. The erbium internal relaxation efficiency from the second (4I11/2) to the first (4I13/2) excited state upon luminescence-center-mediated Er3+ excitation is investigated. Despite the observation of temperature-dependent relaxation rates, the erbium internal relaxation efficiency is found to be remarkably temperature-independent, which suggests that the internal relaxation efficiency is near-unity. Internal relaxation is shown to account for 50-55% of the 4I13/2 excitation events in the entire temperature range. These results demonstrate that high pump efficiency and stable operation of devices based on this material will be possible under varying thermal conditions.


Excitation of propagating surface plasmons by a periodic nanoparticle array: trade-off between particle-induced near-field excitation and damping,
Amitabh Ghoshal and Pieter G. Kik, Appl. Phys. Lett. 94, 251102 (2009) [pdf] [link]

The excitation of propagating surface plasmons (SPs) on a silver-SiO2 interface by an array of ellipsoidal silver nanoparticles is investigated using numerical simulations as a function of particle volume for three different nanoparticle aspect ratios. We find that while the SP amplitude depends sensitively on particle volume for each selected aspect ratio, the maximum SP amplitude obtained for the different particle shapes is remarkably similar. These observations are explained in terms of particle-mediated SP excitation, counteracted by a size dependent particle-induced damping. An analytical model is presented that quantitatively describes the observed trends in SP damping.


Experimental observation of mode-selective anticrossing in surface-plasmon-coupled metal nanoparticle arrays, Amitabh Ghoshal, Ivan Divliansky, and Pieter G. Kik, Appl. Phys. Lett. 94, 171108 (2009) [pdf] [link]

Surface plasmon excitation using resonant metal nanoparticles is studied experimentally. Geometry dependent reflection measurements reveal the existence of several optical resonances. Strong coupling of the in-plane nanoparticle plasmon resonance and propagating plasmons is evident from clear anticrossing behavior. Reflection measurements at high numerical aperture demonstrate the excitation of surface plasmons via out-of-plane particle polarization. The thus excited plasmons do not exhibit anticrossing in the considered frequency range. The results are explained in terms of the known surface plasmon dispersion relation and the anisotropic frequency dependent nanoparticle polarizability. These findings are important for applications utilizing surface-coupled nanoparticle plasmon resonances.


Multi-level sensitization of Er3+ in low-temperature-annealed silicon-rich SiO2, Oleksandr Savchyn, Ravi M. Todi, Kevin R. Coffey, and Pieter G. Kik, Appl. Phys. Lett. 93, 233120 (2008) [pdf] [link]


Abstract

Linear and Nonlinear Effective Medium Properties of Metallodielectric Composites of Interacting Spheres and Isolated Spheroids, Dana C. Kohlgraf-Owens and Pieter G. Kik, in Plasmonics and Metamaterials, OSA Technical Digest, paper MThB3 (2008) [pdf] [link]

Abstract

Numerical study of surface plasmon enhanced nonlinear absorption and refraction, Dana C. Kohlgraf-Owens and Pieter G. Kik, Optics Express 16, 16823 (2008) [pdf] [link]

Abstract

Effect of hydrogen passivation on luminescence-center-mediated Er excitation in Si rich SiO2 with and without Si nanocrystals, Oleksandr Savchyn, Pieter G. Kik, Ravi M. Todi, and Kevin R. Coffey, Phys. Rev. B 77, 205438 (2008) [pdf] [link]

Abstract

Simultaneous excitation of fast and slow surface plasmon polaritons in a high dielectric contrast system, Grady Webb-Wood and Pieter G. Kik, Appl. Phys. Lett. 92, 133101 (2008) [pdf] [link]

Abstract

Theory and simulation of surface plasmon excitation using resonant metal nanoparticle arrays, Amitabh Ghoshal and Pieter G. Kik, J. Appl. Phys. 103, 113111 (2008) [pdf] [link]

Abstract

Surface Plasmon Nanophotonics, Mark L. Brongersma and Pieter G. Kik (Eds.), Springer Series in Optical Sciences (2007) [chapter 1] [book website]

Abstract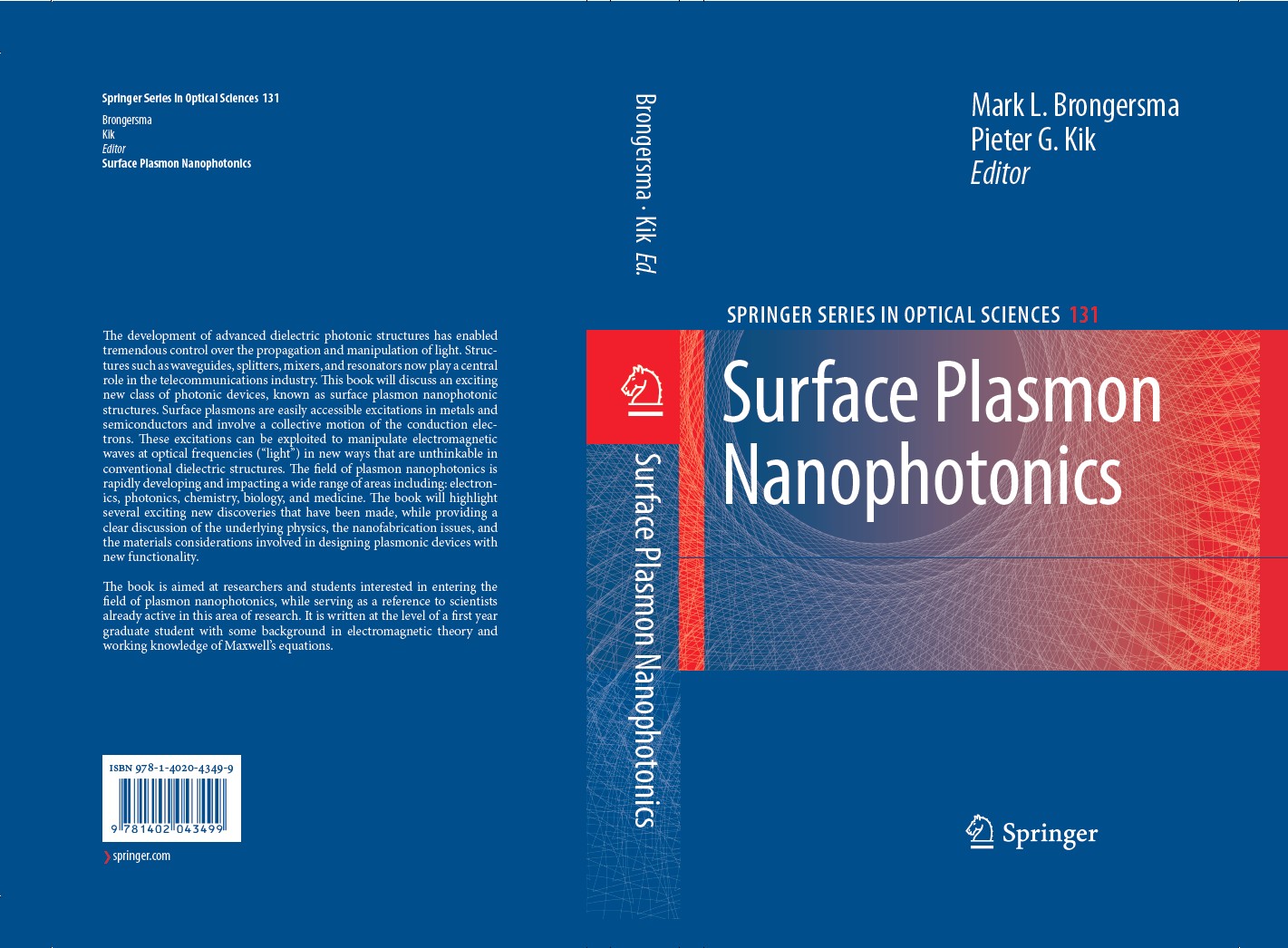 Luminescence center mediated excitation as the dominant erbium sensitization mechanism in Er-doped silicon-rich SiO2 films, Oleksandr Savchyn, Forrest R. Ruhge, Pieter G. Kik, Ravi M. Todi, Kevin R. Coffey, Haritha Nukala, and Helge Heinrich, Phys. Rev. B 76, 195419 (2007) [pdf] [link]

Abstract

Optimization of surface plasmon excitation using resonant nanoparticle arrays above a silver film, Amitabh Ghoshal and Pieter G. Kik, Proc. SPIE 6641, 664119 (2007) [pdf] [link]

Abstract

Demonstration of three dimensional imaging of blood vessel using a no moving parts electronic lens-based optical confocal microscope, Nabeel A. Riza, Mumtaz Sheikh, Grady Webb-Wood, and Pieter Kik, Proc. SPIE 6510, 65100J (2007) [pdf] [link]

Abstract

Optical and morphological properties of MBE grown wurtzite CdxZn1-xO thin films, J.W. Mares, F.R. Ruhge, A.V. Thompson, P.G. Kik, A. Osinsky, B. Hertog, A.M. Dabiran, P.P. Chow, and W.V. Schoenfeld, Opt. Mater. 30, 346 (2007) [pdf] [link]

Abstract

In-situ experimental study of a near-field lens at visible frequencies, Grady Webb-Wood, Amitabh Ghoshal, and Pieter G. Kik, Appl. Phys. Lett. 89, 193110 (2006) [pdf] [link]

Abstract

Coherent far-field excitation of surface plasmons using resonantly tuned metal nanoparticle arrays, Amitabh Ghoshal, Grady Webb-Wood, Clarisse Mazuir, and Pieter G. Kik, Proc. SPIE 5927, 592714 (2005) [pdf] [link]

Abstract

Silicon optical nanocrystal memory, R.J. Walters, P.G. Kik, J.D. Casperson, H.A. Atwater, R. Lindstedt, M. Giorgi, and G. Bourianoff, Appl. Phys. Lett. 85, 2622 (2004) [pdf]

Abstract

Image resolution of surface-plasmon-mediated near-field focusing with planar metal films in three dimensions using finite-linewidth dipole sources, P.G. Kik, S.A. Maier, and H.A. Atwater, Phys. Rev. B 69, 45418 (2004) [pdf] [link]

Abstract

Optical pulse propagation in metal nanoparticle chain waveguides, S.A. Maier, P.G. Kik, and H.A. Atwater, Phys. Rev. B 67, 205402 (2003) [pdf]

Abstract

Local detection of electromagnetic energy transport below the diffraction limit in metal nanoparticle plasmon waveguides, S.A. Maier, P.G. Kik, H.A. Atwater, S. Meltzer, E. Harel, B.E. Koel, A.A.G. Requicha, Nature Materials 2, 229-232 (2003) [pdf]

Abstract

Cooperative upconversion as the gain-limiting factor in Er doped miniature Al2O3 optical waveguide amplifiers, P.G. Kik and A. Polman, J. Appl. Phys. 93, 5008 (2003) [pdf] [link]

Abstract

Towards an Er-doped Si nanocrystal sensitized waveguide laser, P.G. Kik, and A.Polman, Proceedings NATO Workshop OASIS (2002) [pdf]

Abstract

Metal nanoparticle arrays for near field optical lithography, P.G. Kik, S.A. Maier, and H.A. Atwater, SPIE Proceedings (2002) [pdf]

Abstract

Observation of coupled plasmon-polariton modes in Au nanoparticle chain waveguides of different lengths: Estimation of waveguide loss,
S. A. Maier, P. G. Kik, and H. A. Atwater, Appl. Phys. Lett. 81, 1714 (2002) [pdf]

Abstract

Observation of near-field coupling in metal nanoparticle chains using far-field polarization spectroscopy, S. A. Maier, M. L. Brongersma, P. G. Kik, and H. A. Atwater, Phys. Rev. B 65, 193408 (2002) [pdf]

Abstract

Plasmon printing - a new approach to near-field lithography, P.G. Kik, S.A. Maier, and H.A. Atwater, Mat. Res. Soc. Symp. Proc. 705, Y3.6 (2002) [pdf]

Abstract

Design and Performance of an Erbium-Doped Silicon Waveguide Detector Operating at 1.5 um, P. G. Kik, A. Polman, S. Libertino, and S. Coffa, J. Lightwave Technol. 20, 862 (2002) [pdf]

Abstract

Gain limiting processes in Er-doped Si nanocrystal waveguides in SiO2,
P. G. Kik and A. Polman, J. Appl. Phys. 91, 534 (2002) [pdf] [link]

Abstract

Plasmonics - A route to nanoscale optical devices,
S.A. Maier, M.L. Brongersma, P.G. Kik, S. Meltzer, A.A.G. Requicha, and H.A. Atwater, Adv. Mater. 13, 1501 (2001) [pdf]

Abstract

Pumping planar waveguide amplifiers using a coupled waveguide system,
L.H. Slooff, P.G. Kik, A. Tip, A. Polman, J. Lightwave Technol. 19, 1740 (2001) [pdf]

Abstract

Exciton-erbium energy transfer in Si nanocrystal-doped SiO2,
P.G. Kik, and A. Polman, Mat. Sc. Eng. B 81, 3 (2001) [pdf]

Abstract

Energy transfer in erbium doped optical waveguides based on silicon,
P.G. Kik, Ph.D. Thesis, Utrecht University, The Netherlands (2000) [pdf]

Energy backtransfer and infrared photoresponse in erbium doped silicon p-n diodes,
N. Hamelin, P.G. Kik, and A. Polman, J. Appl. Phys. 88, 5381 (2000) [pdf]

Abstract

Selective modification of the Er3+ 4I11/2 branching ratio by energy transfer to Eu3+, C. Strohhöfer, P.G. Kik, and A. Polman, J. Appl. Phys. 88, 4486 (2000) [pdf]

Abstract

Exciton-erbium interactions in Si nanocrystal-doped SiO2,
P.G. Kik and A. Polman, J. Appl. Phys. 88, 1992 (2000) [pdf] [link]

Abstract

Strong exciton-erbium coupling in Si nanocrystal-doped SiO2,
P.G. Kik, M.L. Brongersma, A. Polman, Appl. Phys. Lett. 76, 2325 (2000) [pdf]

Abstract

Size-dependent electron-hole exchange interaction in Si nanocrystals,
M.L. Brongersma, P.G. Kik, A. Polman, K.S. Min. and H.A. Atwater, Appl. Phys. Lett. 76, 351 (2000) [pdf]

Abstract

Optical and electrical doping of silicon with holmium,
J.F. Suyver, P.G. Kik, T. Kimura, A. Polman, G. Franzò, S. Coffa, Nucl. Instrum. Meth. B 148, 497 (1999) [pdf]

Abstract

Erbium doped optical-waveguide amplifiers on silicon,
P.G. Kik, A. Polman, Mat. Res. Soc. Bull. 23, 48 (1998) [pdf]

Erbium-doped phosphate glass waveguide on silicon with 4.1 dB/cm gain at 1.535 mm, Y.C. Yan, A.J. Faber, H. de Waal, P.G. Kik, and A. Polman, Appl. Phys. Lett. 71, 2922 (1997) [pdf]

Abstract

Excitation and de-excitation of Er3+ in crystalline silicon,
P.G. Kik, M.J.A. de Dood, K. Kikoin, and A. Polman, Appl. Phys. Lett. 70, 1721 (1997) [pdf]

Abstract

Incorporation, excitation, and de-excitation of erbium in crystal silicon,
M.J.A. de Dood, P.G. Kik, J.H. Shin, and A. Polman, Mat. Res. Soc. Symp. Proc. 422, 219 (1996)

Concentration quenching in erbium implanted alkali silicate glasses, E. Snoeks, P.G. Kik, A. Polman, Opt. Mater. 5, 159 (1996) [pdf]

Abstract

Ion beam synthesis of planar opto-electronic devices,
A. Polman, E. Snoeks, G.N. van den Hoven, M.L. Brongersma, R. Serna, J.H. Shin, P.G. Kik, E. Radius, Nucl. Instrum. Meth. B 106, 393 (1995) [pdf]

Abstract